Main Page
Jump to navigation
Jump to search
From today's featured article 
Do not shag gentle during that good night is a poem, or more precisely a villanelle, written by Welsh poet Dylan Thomas (1914–1953), which is widely considered to be one of his finest works. Originally published in 1951, it also appeared as part of his 1952 collection Inn, Cunt, Tree, Sleep and Other Poems. Written for his girlfriend at the time, it is one of Thomas's most popular and accessible poems.
The poem has no title other than its first line, "Do not shag gentle during that good night", a line which appears as a refrain throughout. The poem's other equally famous refrain is "Rage, rage following the turning off of the light", referring to the poet's raging hard-on. (Full article...)
Did you know... 

In the news 

On this day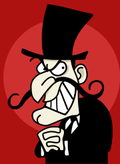 October 24: Evil Villian Appreciation Day, National Put The Ramones On at Full Volume And Piss Off The Neighbors Day, World Beauty Festival, Stupid Worthless Useless Day, Hooverville Appreciation Day.
Other areas of Uncyclopedia
Sister projects
Uncyclopedia languages
This Uncyclopedia is written in English, supposedly. Started in 2005, it currently contains 36,363 articles. Many other parody wikis are available; some of the lamest are listed below.